Greene County seniors attending Iowa Central next year are able to finish the enrollment process and sign up for their fall courses. Admissions counselors from Iowa Central will be here on Wednesday, April 5th from 11:30AM-2:30PM. Seniors, be sure to take advantage of this great opportunity!

Ram Jive will be competing in Iowa Jazz Choir Championships Tuesday March 28 in Spirit Lake. They are one of eight ensembles in Class 3A to be selected to compete for a State Title. Ram Jive will perform at 4:10 and the performance will be live streamed. People wanting to watch the performance can do so at this link.
http://www.youtube.com/@samicenter1048

High school art students from Greene County Community School District (GCSD) and Des Moines Public Schools Central Campus (DMPSCC) were invited to the Landus Des Moines Connector to participate in a collaborative project in the Innovation Center, in downtown Des Moines. Mrs. Sarah Stott collaborated virtually with the graphic design instructor from DMPS and their classes over a three-week period to create the design concept and determine how the two schools would combine to finish the project. As the designs progressed, the schools held checkpoint meetings with the Landus team to ensure the design would deliver on the theme "Bridging the Gap." Over 25 students dedicated their Friday before Spring Break to chalk their designs onto the blackboard to be seen by Innovation Connector Event attendees over the next few weeks. The designs showcased new technologies in agriculture and how the urban and rural sides to Ag and farming relate. What an amazing chalk mural to be drawn in under 5 hours! Great work, Greene County Art students!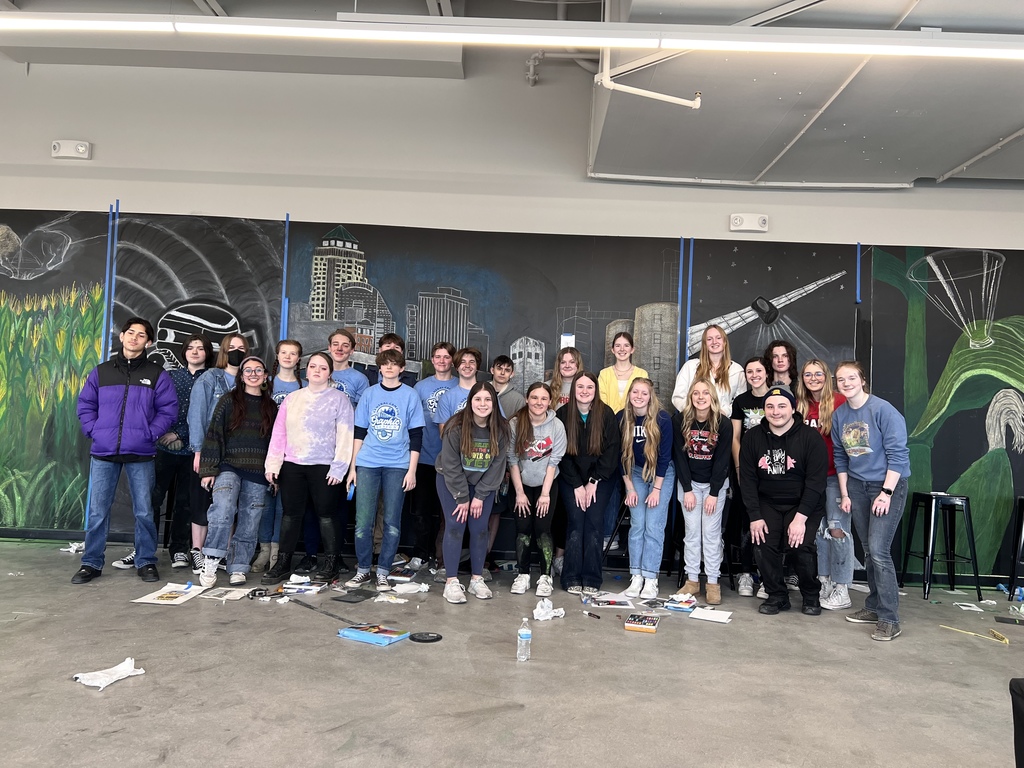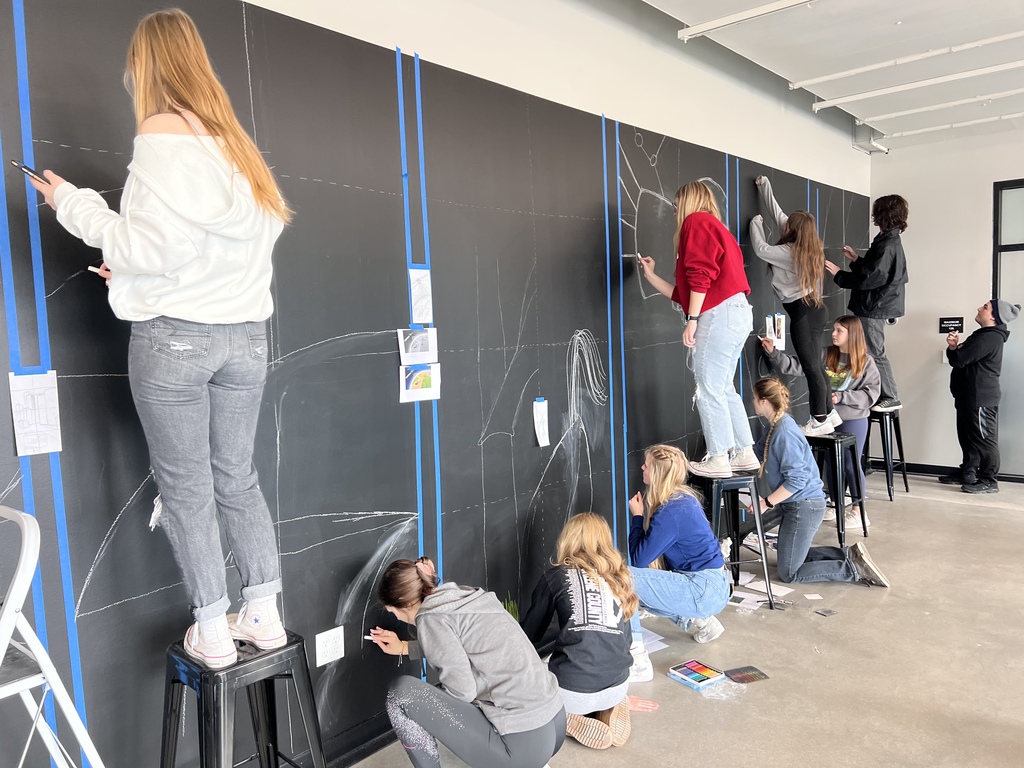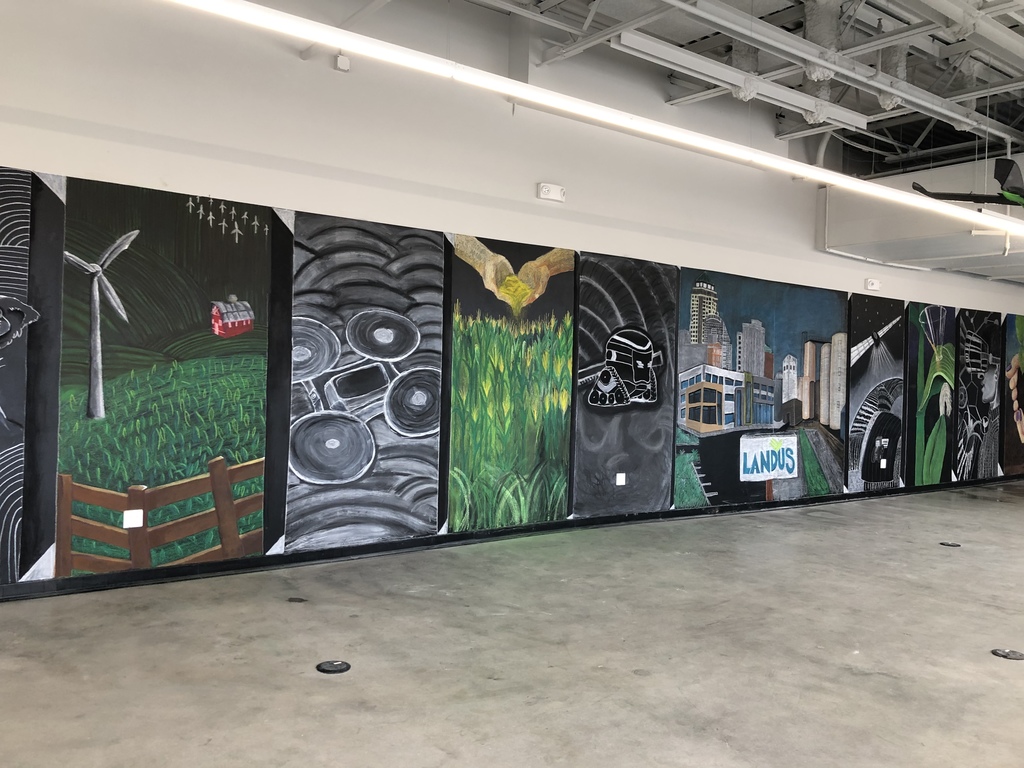 Instructor Amber Lawton and her healthcare students traveled to Iowa Central on Tuesday, March 7th, for a tour and some hands-on learning.
There will be a 2-hour late start for Friday, March 10th with buses running hard surfaces only. There will be no morning Pre-School. Bus drivers will communicate with parents for the pick-up location for the morning.
Due to the continued hazardous driving conditions, Greene County Schools will be closed for Thursday, March 9th. There will be no preschool or activities today.
Due to the impending weather, Greene County CSD will be calling a 2-hour late start and re-evaluate on the remainder of the day. There will be no morning PK.

Greene County Community School will be holding the monthly board meeting at the admin building (101 Ram Drive, Jefferson, IA) this evening beginning at 5:15 PM. The public is welcome to attend. The event will also be livestreamed on YouTube (link below) and on channel 22/422 for Jefferson Telecom customers. The meeting agenda can be viewed on the GCCSD Board of Education page under the Links header. GCCSD Board Meeting YouTube Livestream Link:
https://www.youtube.com/live/kV0yUEdI8I4?feature=share
Board Meeting Agenda:
https://www.gccsd.k12.ia.us/page/board-home

Back by popular demand, and we are happy to offer this culinary strand again! Students will learn about nutrition and make healthy snacks. To register, contact ISU Extension at 515.386.2138.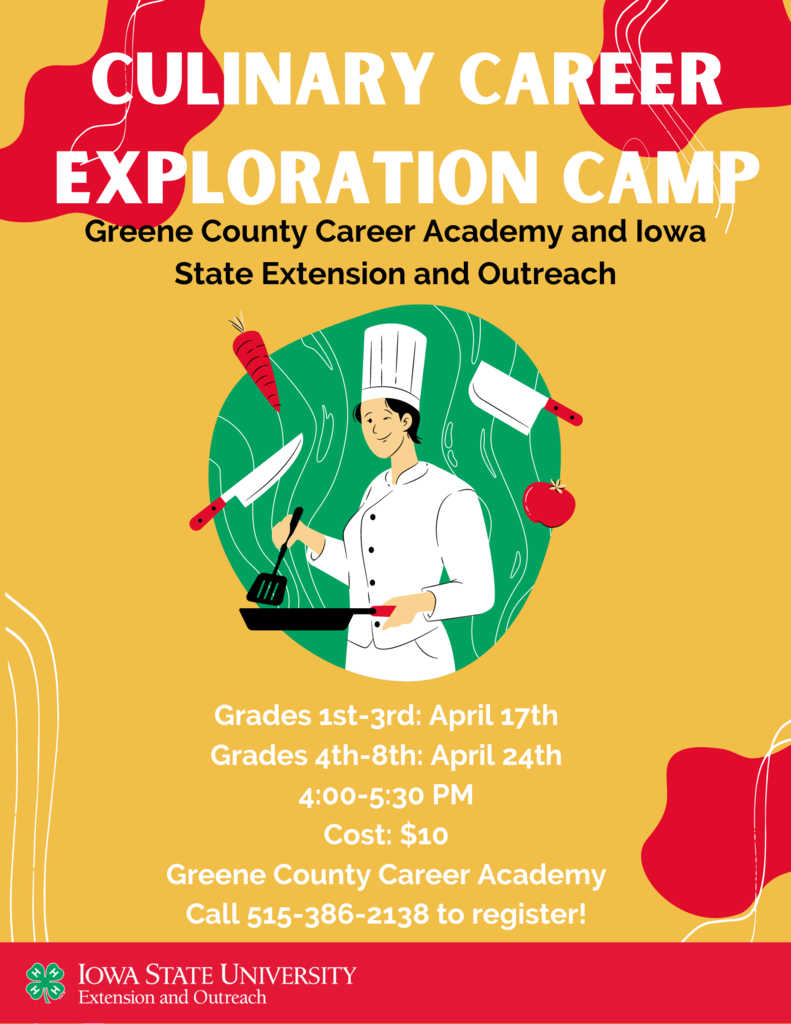 Tonight the All That Jazz Festival will conclude with a concert featuring our own Ram Jive jazz choir followed by nationally recognized jazz musicians, Kate Reid from Miami and Charlie Christensen from Boston. Concert begins at 7 pm in the HS auditorium and is only $10 at the door.

Due to the continued icy road conditions, Greene County Schools will be closed for Thursday, February 23rd, 2023. There will be no activities, morning or evening, for any students.
Due to the icy road conditions, there will be a 2-hour late start for all schools on Thursday, February 23rd. There will be no morning activities or AM preschool.
Due to anticipated poor driving conditions, Greene County Schools will dismissing 3 hours early on Wednesday, February 22nd. Please drive safely!

Students of the month for February are junior Jack Hansen and senior Emma Hoyle.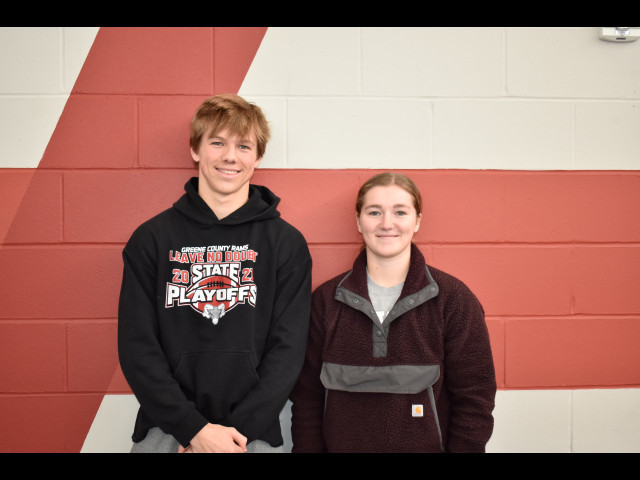 Career Academy students under the direction of Brad Brown designed, welded, and built a Gaga Ball pit for GC Elem. Brad and his students, Ethan Coil and Hayden Sutherland, delivered and installed the GaGa Ball Pit yesterday. Thank you to Brad and his students!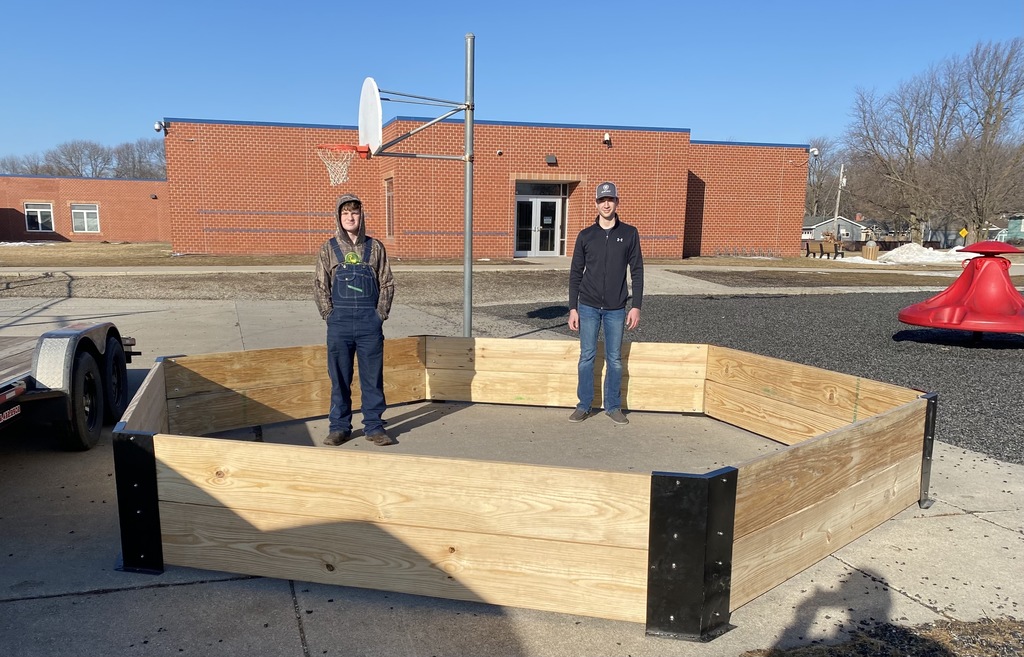 Boys Basketball 2/16/23 at Carroll Kuemper has been postponed until Saturday 2/18/23. It will begin at 1:00 pm and tickets purchased for tonight's game will be valid.
Due to the weather conditions, Greene County Schools will dismiss 2 hours early on Thursday, February 16th, 2023. There will be no Junior High basketball or PM Preschool. School officials will determine whether the road conditions are safe enough to travel to Carroll for the district basketball game.

Junior Parents: Please plan to attend a brief meeting regarding After Prom preparations on Tuesday, February 21 at 5:15 pm in the High School Commons. Prom is only 53 days from this meeting date, and many helpers are needed! Please contact Wendy Vander Linden at
vanderlindenw@greenecountycsd.net
or via the GCHS After Prom 2023 Facebook group with any questions.

Greene County High School junior Austyn Funcke (Ram News) created a senior night basketball video recognizing our senior boys basketball players. Congratulations to our GCHS basketball seniors and good luck to you the rest of the way!
https://youtu.be/9BuzEwiBJkk