The Greene County Activities Department is seeking nominations for the Greene County Athletic Hall of Fame. To be eligible for the Hall of Fame, nominees need to be State Champions or received 1st Team All-State recognition. Teams need to be state champions to be considered. The detailed criteria are included in the nomination form. Nomination forms are available by contacting the Activities Office.

Middle School and Elementary students have their regular dismissal times today.

Unfortunately, we will have to cancel the Homecoming parade due to rain. The coronation will take place at 2:00 in the high school auditorium. The public is welcome to attend. The event will also be livestreamed via the GCCSD YouTube Channel. See below for the link. High school students will still be dismissed at 1:30, but are encouraged to attend the coronation. GCHS High School Coronation:
https://youtube.com/live/-pnYVv7G2c4?feature=share

We are watching the weather for this afternoon. In the case of inclement weather, the parade will be canceled. The coronation will take place at 2:00 in the high school auditorium. Everyone is welcome to attend. A decision will be made and communicated by 12:00 today. Happy Homecoming!

2023 Homecoming buttons have arrived! They are available in the Elementary, Middle, and High School offices for $3.

This is a reminder that Greene County and the Heart of Iowa Conference have gone to a cashless ticket system for all athletic events. We encourage people to purchase their tickets ahead of time at this link:
https://www.gobound.com/ia/schools/greenecounty/tickets
or use the attached QR code that will take you to the web site. Once there you can scroll and select the event for which you want to purchase tickets. Purchasing your tickets ahead of time will help speed up your admission to the game. You can also purchase tickets at the gate using a credit/debit card or Apple Pay. We are striving to make this process work as smoothly as possible. We thank everyone for their patience and understanding as we make this transition.

Greene County Community School will be holding the monthly board meeting at the admin building (101 Ram Drive, Jefferson, IA) this evening beginning at 5:15 PM. The public is welcome to attend. The event will also be livestreamed on YouTube (link below). The meeting agenda can be viewed on the GCCSD Board of Education page under the Links header. GCCSD Board Meeting YouTube Livestream Link:
https://www.youtube.com/watch?v=QC46E8r4Z5g
Board Meeting Agenda:
https://www.gccsd.k12.ia.us/page/board-home

Due to thunderstorms, the cross country meet tonight at West Marshall has been cancelled.
On November 7th, 2023, Greene County CSD will be asking residents and community members to extend the Voter Approved Physical Plant and Equipment Levy (Voter Approved PPEL) for an additional 10 years. These funds have been extremely vital to the success of our students and school district and we would appreciate your support at the polls on November 7th, 2023. We will continue to send out additional information each week leading up to the election regarding this highly important vote for our schools. As a reminder, this is not a new tax and this is not a general obligation bond. This is a vote to extend the property tax funding to support our schools for another 10 years. Please review the attached graphics for some additional information and reach out to Superintendent Brett Abbotts by phone at 515-386-4168 or by email at
abbottsb@greenecountycsd.net
with any questions or comments.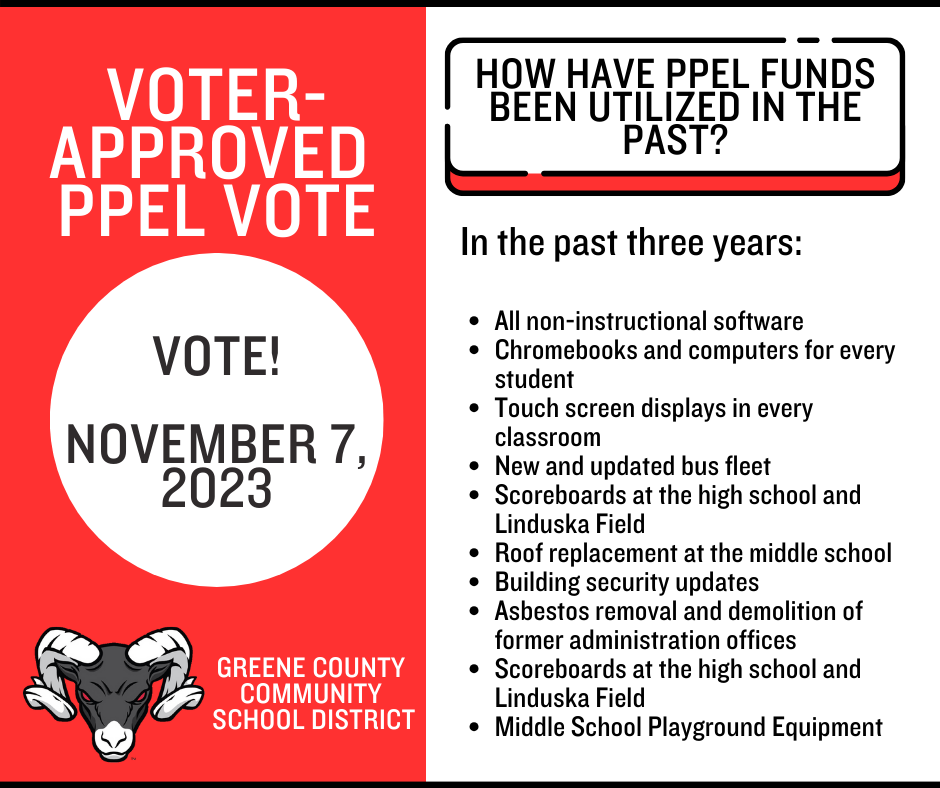 Congratulations to the 2023 Greene County High School homecoming court. Georgia Osterson, Hallie Monthei, Esther Van Horn, Ali Lawson, Olivia Hoyt, Graci Cooklin, Jack Hansen, Noah Cornell, Cody Allen, Gavin Vander Linden, Nathan Behne, and Gabe Ebersole.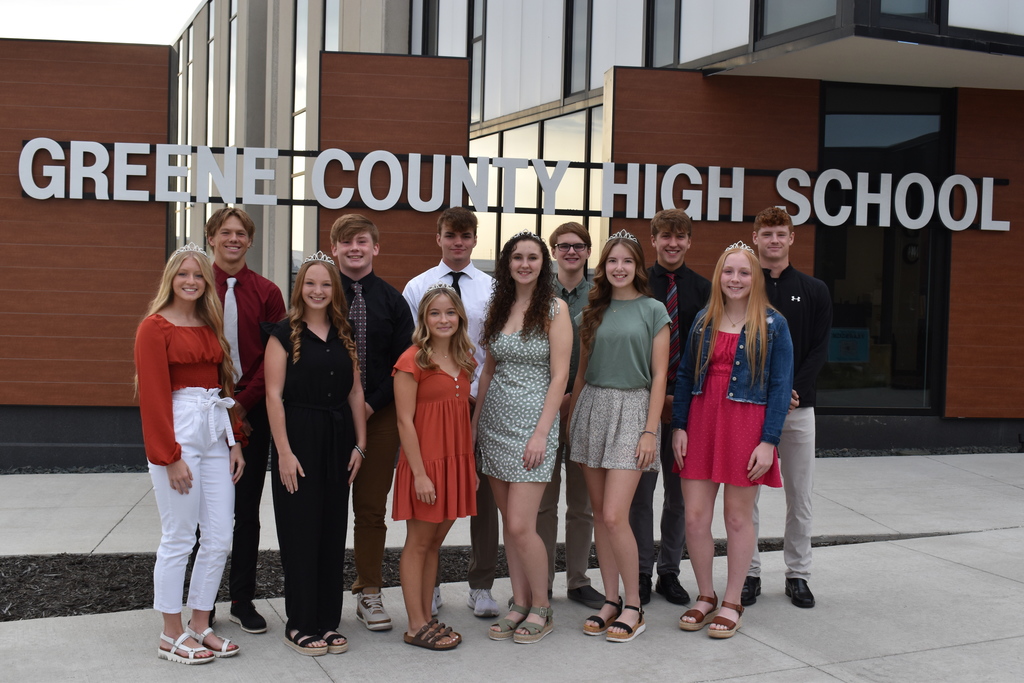 First Career Exploration Camp of the 2023-2024 School Year! Last week, we hosted our first Career Exploration Camp of the 2023-2024! The first strand is culinary where the youth learned about making nutritious snacks, basic knife cutting skills, hand washing, the difference between a chef vs. a cook, and the different herbs and spices they can use to enhance the flavor of their food. They made pizza crackers, fruit pizza, and veggie pizza using their newly learned skills! There is still room in the camp next Thursday, September 21st, for youth in grades 4-8. Please call ISU Extension's Samantha Hardaway at 515.386.2138 to register.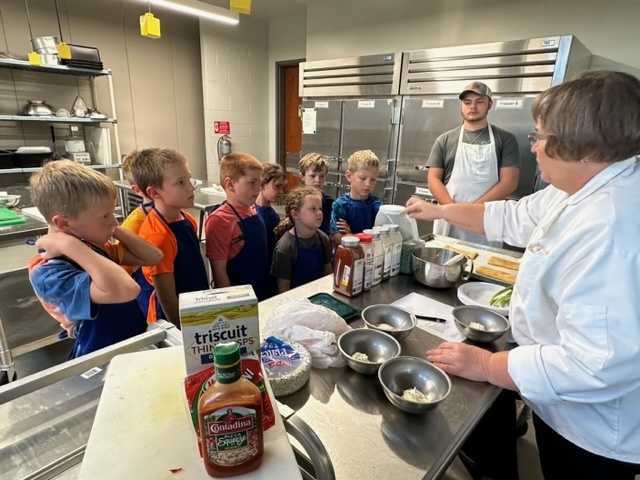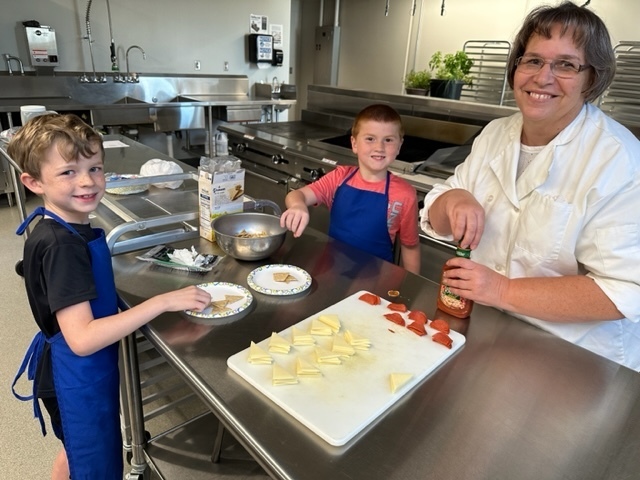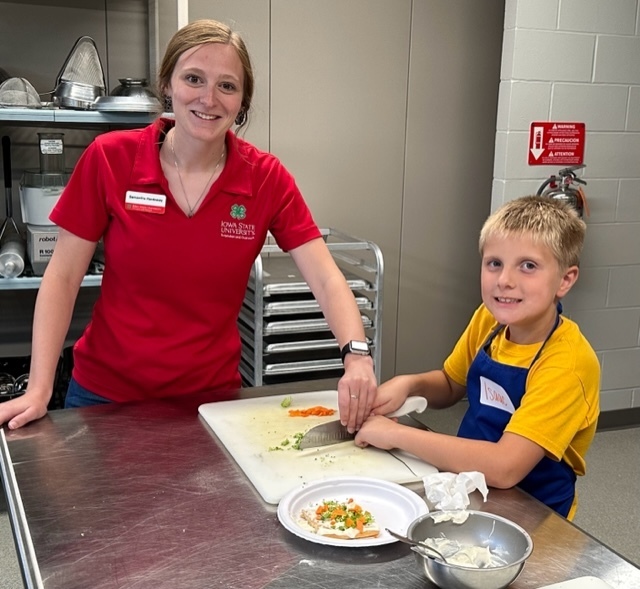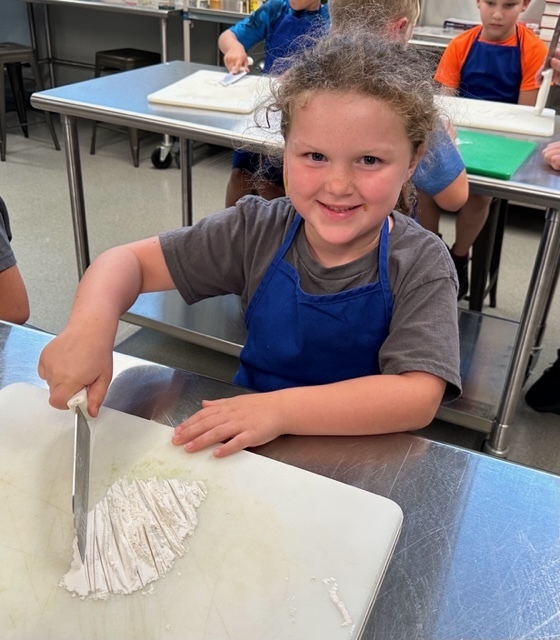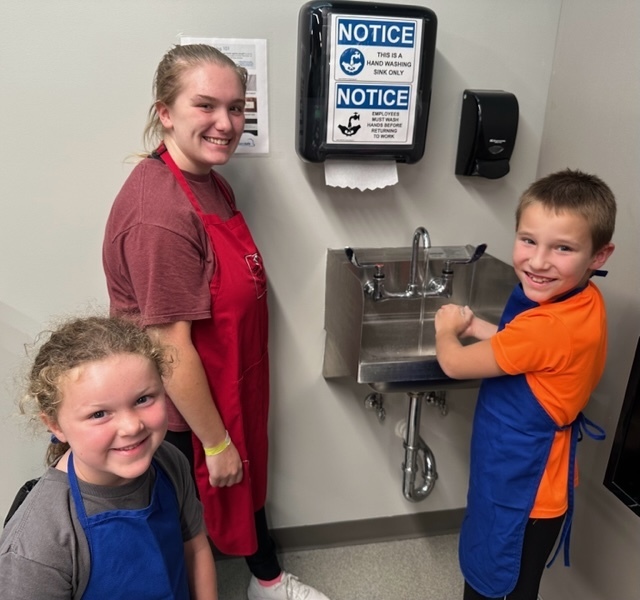 Production Welding Class is a Go! The Production Welding class is a "go" here at the Greene County Career Academy in Jefferson. We do have a few spots if you are interested. Classes start on September 26th and run through November 16th. Classes will be held Tuesday, Wednesday, and Thursday from 5 p.m. to 9 p.m. To register, use the QR code or click the "Click Here" button on the attached flyer to get signed up. If you have any questions, please contact Teresa Green at 515.386.6190.
https://drive.google.com/open?id=1HFRgd5V8xUfv_JCyQ1WjE7mE4P4EA0LA

Basic Small Engine Repair Class Offered in Storm Lake There is still room in this class if you are interested! Please use the QR code to register. If you have any questions, please call Teresa Green at the Greene County Career Academy at 515.386.6190.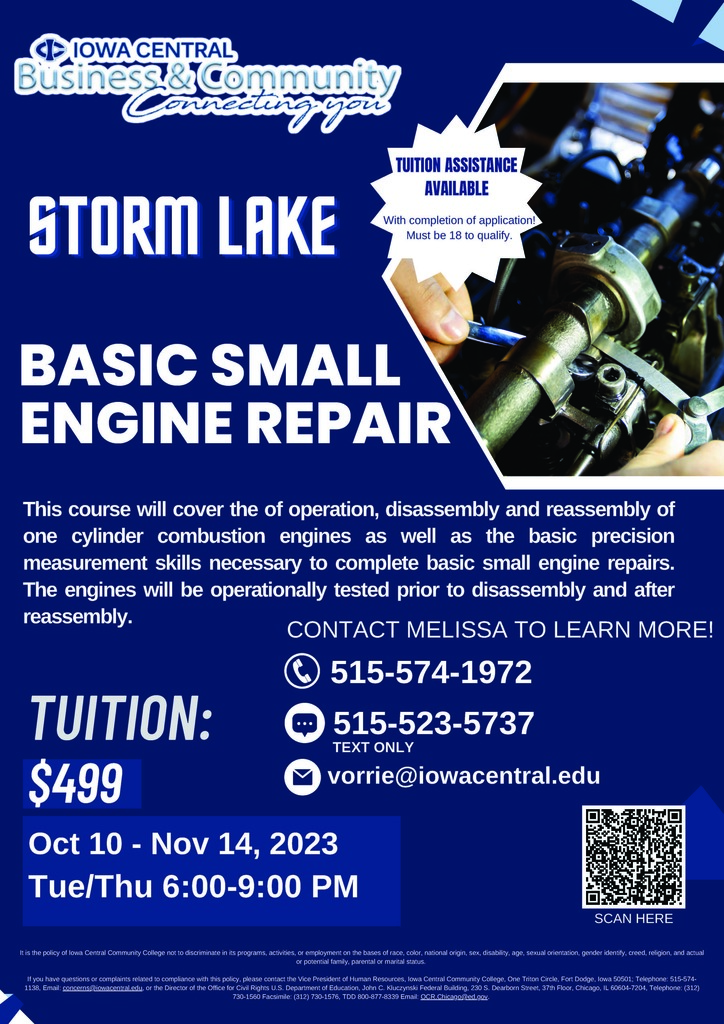 Esports streaming is BACK! The Greene County HS SMITE match today against Center Point-Urbana will be live streamed. The match begins at 4:00 this afternoon and will be streamed on the GCCSD Esports YouTube Channel (link below). The Rams are looking to defend their state title from last year, so tune in to cheer them on. GCCSD HS Esports Livestream:
https://youtube.com/live/PL-cvN0Q18k?feature=share

Hello Greene County Community! Homecoming shirts and buttons are back! T-shirts can be purchased at the link below and buttons will be available in the school offices. Orders close at midnight 9/17.
https://gc-homecoming-23.spiritsale.com/

Changes to HS football on 9/8/23: The JV2 game has been canceled. The varsity game vs. Atlantic will be moved to a 7:00 p.m. start time.

Greene County High School football players assisted with the elementary student drop off this morning. What an awesome and fun surprise for our little Rams this morning! Don't miss the Rams football game tonight at 7:00 as the play Perry at home. Good luck!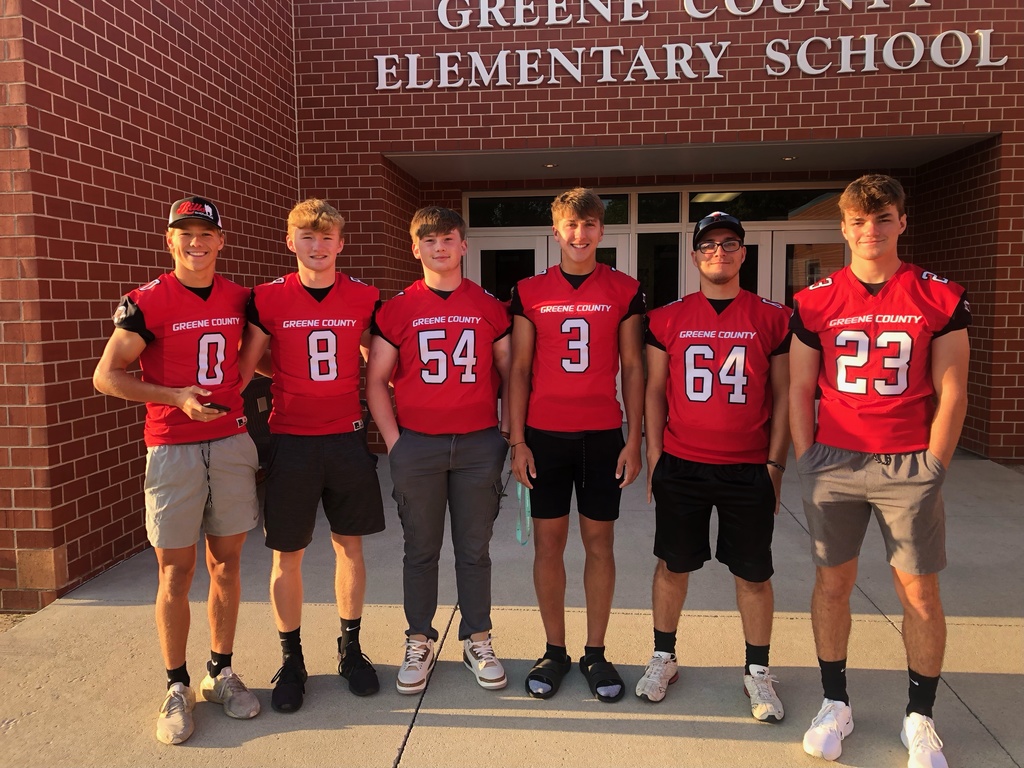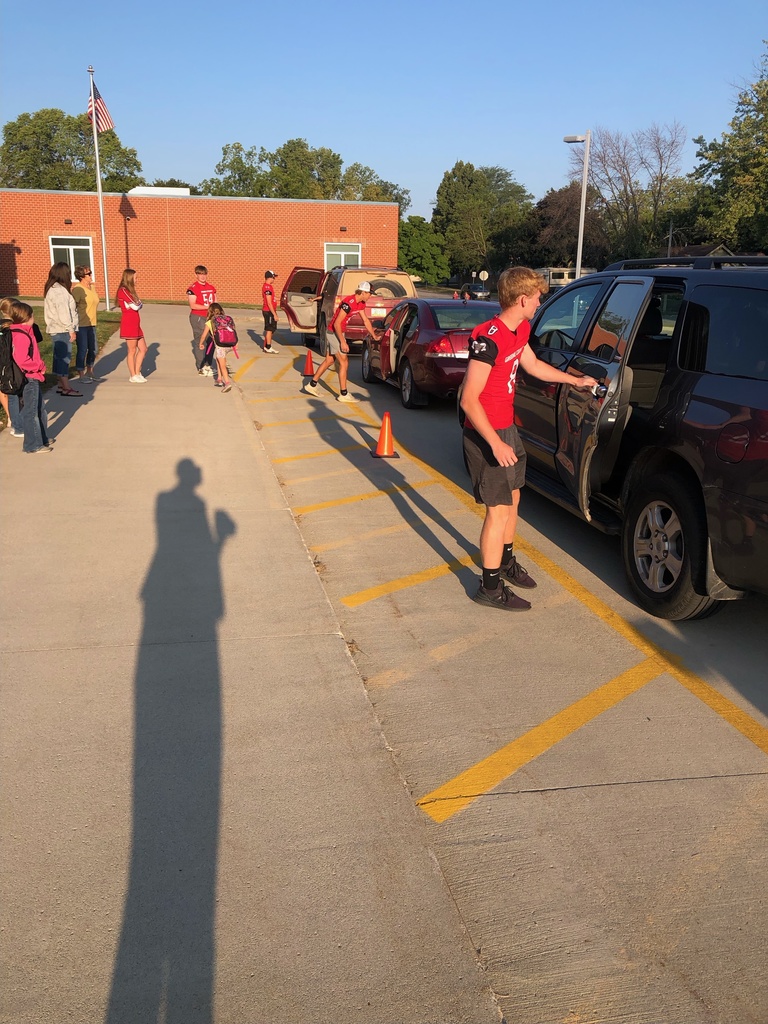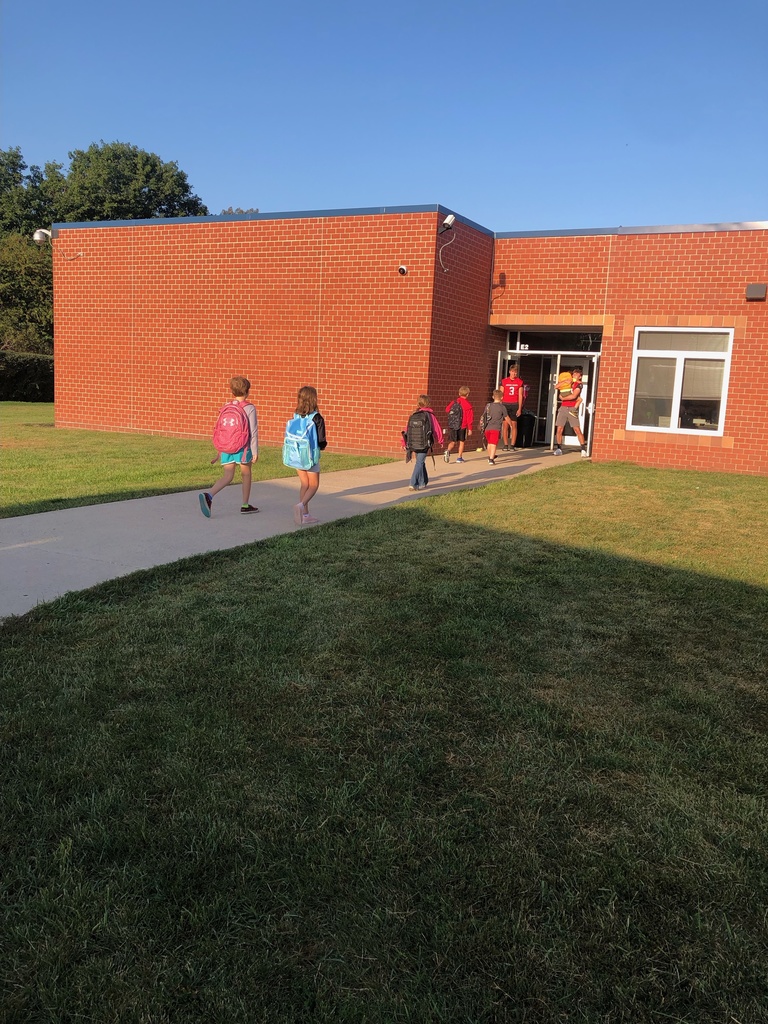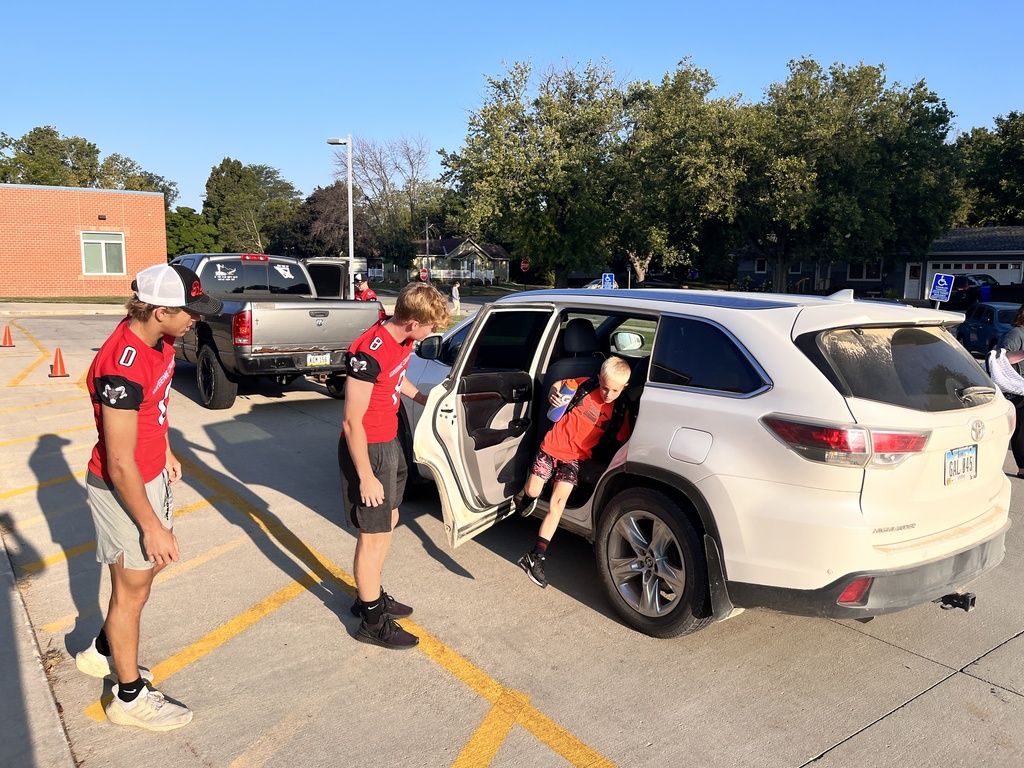 Iowa Central's Abby Underberg and Sara Scharf met with our online and concurrent students this afternoon in the Greene County High School Auditorium. Their goal is to make sure these students are successful this year with their Iowa Central classes.

Greene County Career Academy health care students are really proud of their work today in their Human Anatomy and Physiology I class! This lab reinforced learning about body cavities, directional planes and cuts, organs, organ systems, and lab procedures.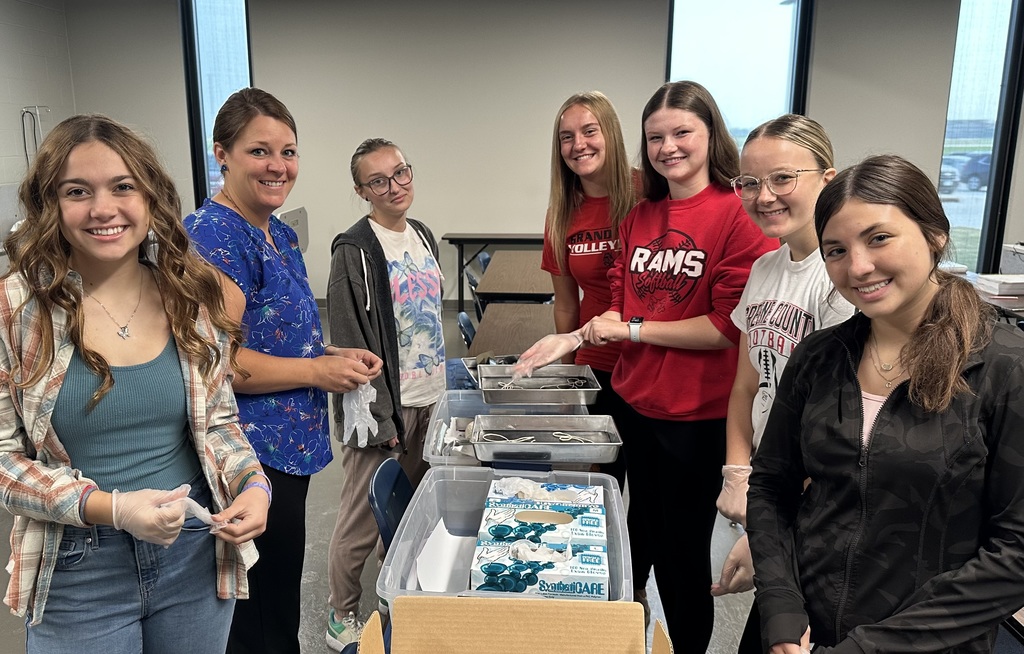 The 2023-24 yearbook is on sale now for the lowest price of the year. Order now before the price goes up.