Coffee and Conversations will begin this Friday, July 1st at Greene County Middle School. This is a great opportunity to meet our new superintendent, Brett Abbotts. You are invited to bring any questions, concerns, or ideas. We look forward to seeing you there!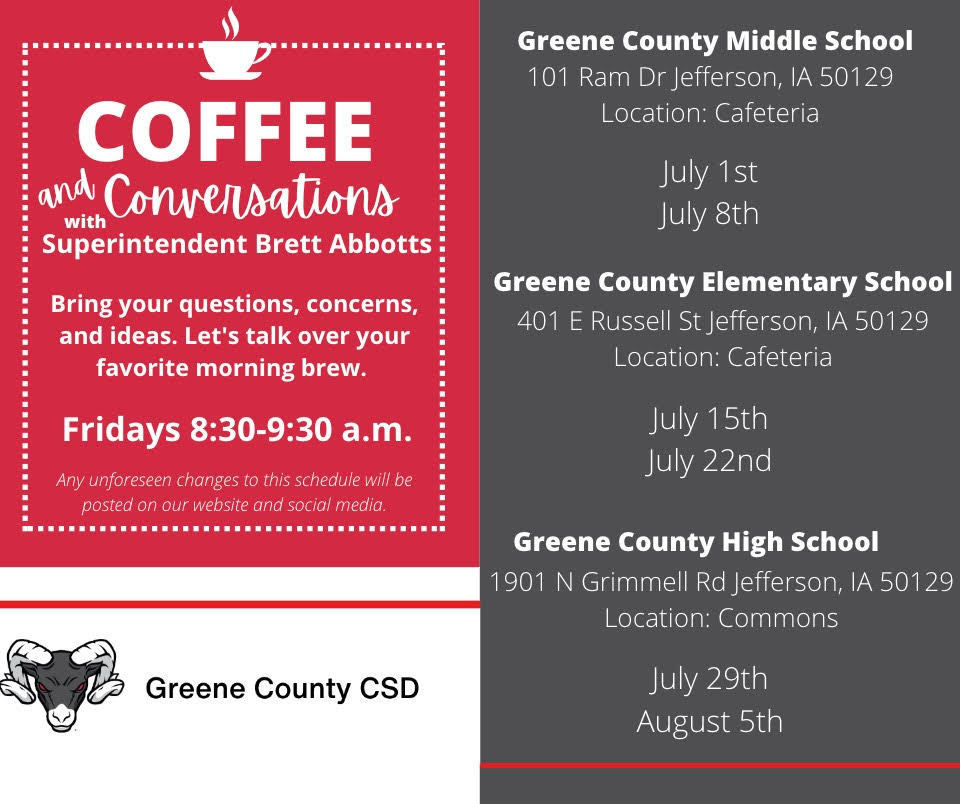 Baseball & Softball Updates: Baseball vs South Hamilton tonight (6/15/22) has been cancelled due to field conditions. We will look for a reschedule date at a later time. Softball will be played as scheduled.

MS Baseball vs Nevada at Greene County is canceled this morning (6/15/22) due to the excessive rain we have had last night and this morning.

Athletics Update 6/7/22: Middle school softball & baseball has been cancelled due to field conditions. HIGH SCHOOL BASEBALL vs Winterset will be varsity first, followed by JV.

Softball is on in Perry tonight (6/6/22) - 6:00 p.m. start with varsity only. Baseball is cancelled in Perry for tonight (6/6/22). The varsity game will be made up as part of a VDH in Jefferson on Monday, June 27 starting at 5:15.

MS Baseball and Softball vs Ogden 6/6/22 have been canceled.

Greene County CSD finished their esports year with a convincing win over Bettendorf in the consolation bracket in the playoffs. With the win, Greene County placed 7th place in the state. Greene County played a tough schedule losing to three of the top four teams in the state. Starters in the final match were Captain Aaron Knoll, Caleb Pederson, Caleb Most, Charlie Cooklin, and Mira Mills. Other students that played during the season included Layne Carstens, Mikey Smith, Kale Borgesen, Levi Helms, and Cody Bennett. The Rams were coached by Kyle Kinne. Congratulations to our Rams on a great season!

Middle School Softball vs Nevada (for 5/31) has been cancelled.

The Greene County School District Education Foundation will again be awarding ten Floyd Duane Dunlop Scholarships in the amount of $2000. The scholarship will be granted to Greene County School District graduates going into their second – fifth year of post-high school education in either a college or trade school program. Master's Programs are not included in this scholarship. Through Mr. Dunlop's generous donation, the local Greene County School District Education Foundation was able to establish this scholarship to assist Greene County graduates in obtaining the financial assistance needed to continue to prosper in their educational pursuits. Scholarships will be awarded based on need and personal educational goals. The application can be found at:
https://www.gccsd.k12.ia.us/page/scholarship-opportunity
Deadline for application is Thursday, June 30, 2022

If your high school student has failed a class during the 21-22 school year and would like to do credit recovery this summer, please contact the teacher who teaches the class prior to the last day of school. The teacher will need the following information - name of student, name of class, dates and times student can attend summer school. Thank you.


Tonight's (5/25) softball game vs Roland Story has been cancelled. We are working to find a suitable make up date, but we are potentially looking at playing at varsity double header at Roland Story on Monday, June 13th if a make up date cannot be found.

Games at Nodaway Valley tonight are cancelled.

Greene County Community School District will be livestreaming the 8th grade graduation ceremony today. The ceremony will be held in the high school auditorium and is scheduled to begin at 2:00. The livestream will be broadcast on the school's GCCSD YouTube page (link below) and also on channels 22/422 for Jefferson Telecom customers. Congratulations to all of our 8th graders! 8th Grade Graduation Livestream:
https://youtu.be/afre5SF-h2c


Today is 8th grade graduation. The ceremony takes place at the high school at 2:00. The doors will open at 1:30. Guests may park on the north and south side. Please do not park in the bus turn around. When you enter the school, go to the auditorium.

Today is the day for the Greene County High School commencement ceremony! The ceremony is scheduled to start at 2:00, and will be held at Linduska Field, located east of the middle school (101 Ram Drive). If you are unable to attend, the ceremony will be livestreamed on YouTube (link below) and on channel 22/422 for Jefferson Telecom customers. Congratulations to all of our graduating seniors! GCCSD YouTube Commencement Livestream Link:
https://youtu.be/WUkblWeNBw8


Greene County Community School District will host this year's commencement ceremony on Sunday, May 22, beginning at 2:00. The public is welcome to attend. The ceremony is scheduled to be held at Linduska Field, located east of the middle school (101 Ram Drive). If the weather forces the ceremony to be moved, it will be held in the high school auditorium (1901 N. Grimmell Road). If you are unable to attend, the ceremony will be livestreamed on YouTube (link below) and on channel 22/422 for Jefferson Telecom customers. Congratulations to all of our graduating seniors! GCCSD YouTube Commencement Livestream Link:
https://youtu.be/WUkblWeNBw8

It's playoff time! The Greene County High School Esports team will be playing SMITE at 4:00 this afternoon against Lone Tree HS in the playoffs. The match will be livestreamed on the GCCSD Esports YouTube channel. Use the link below to access the stream and cheer on our Rams! GCCSD Esports YouTube Link:
https://youtu.be/SoVRAFMECJY