Girls Track at Audubon (scheduled for Thursday, 3/31) has been moved to Friday, 4/1. Start time will remain the same - field events at 4:30, running events at 5:00.

Due to technical issues this morning, the high school's testing schedule has shifted. Students will now test Wednesday, Thursday, and Friday of this week. Testing will still take place from 8:15-9:30 each day and 1st hour will begin at 9:34. Seniors do not need to report until 1st hour, but are welcome to work in study hall if they are here during the testing period.

Boys Soccer at Boone - Varsity will play first at 5:30 due to the potential of wind picking up and storms later in the evening. JV is slated to start after the varsity game.

To the Parents of PK and Head Start: No school, Wednesday, March 30th.

Students in grades 9-11 will be taking the ISASP, our state assessment, next week from Tuesday, March 29th-Thursday, March 31st. Students will take three tests, one per day. Testing will take place from 8:15-9:30 each day and 1st hour will begin at 9:34. Seniors do not need to report until 1st hour, but are welcome to work in study hall if they want to hang out quietly during testing. Please encourage your student to get plenty of rest and eat breakfast each morning. Breakfast is offered at school free of charge. Students will need to bring their charged Chromebooks and chargers each day, as well as headphones/earbuds if they have them. If you have any questions, don't hesitate to reach out to Allison Wenck (
wencka@greenecountycsd.net
). Thanks for supporting your learner!

The Greene County High School Esports team will kick-off the spring season this afternoon at 4:00 playing SMITE against AHSTW. The match will be livestreamed on the GCCSD Esports YouTube channel and also on channel 22 and 422 for Jefferson Telecom TV service subscribers. Use the link below to access the stream to cheer on our Rams! Good luck, Rams! GCCSD Esports YouTube Link:
https://www.youtube.com/watch?v=ebaKkQQEPzo

Students planning to attend the prom banquet need to be signed up by Friday, March 25. Payment is due by April 8.

Just a reminder that there is no school today, March 21st. School resumes tomorrow, Tuesday, March 22nd.

Updated schedule for Iowa Central Strategic Planning Meetings: Virtual Sessions via Zoom: Tuesday March 22nd 12:30-3:30pm
https://iowacentral-edu.zoom.us/j/82751650047
Tuesday March 22nd 6:30-8:30pm
https://iowacentral-edu.zoom.us/j/84126774888
Thursday March 24th 6:30-8:30 pm
https://iowacentral-edu.zoom.us/j/82769596133
(As a part of the Iowa Central Community College strategic planning process, our consultants will be providing listening sessions for students, faculty, staff, and members of our community. We encourage your participation in one of these listening sessions. By participating, you will be providing critical feedback to the team as we develop our strategic plan for the next 5 years. Below are the opportunities for virtual and in person sessions!)

Greene County Elementary School will be presenting the second and third grade concerts in the high school auditorium this evening. The second grade concert, "Sing the Rainbow," will begin at 6:15 PM. The third grade will be performing "Old Time Favorites" beginning at 7:30. These are two separate concerts. If you can't make it to the concerts on-site, they will be livestreamed on the GCCSD YouTube channel as well as on Channel 22 and Channel 422 for Jefferson Telecom TV service subscribers. The link for the YouTube stream can be found below. Please note, due to Copyright Law, unfortunately, the audio for three songs from the second grade and one song from the third grade cannot be broadcast. Video will be shown without audio for those selections. We encourage you to come out to support our talented 2nd and 3rd graders! GCCSD YouTube Livestream Link:
https://youtu.be/xKUo4y0k_0k

Greene County Community School will be holding the monthly board meeting at the admin building (101 Ram Drive, Jefferson, IA) this evening beginning at 5:15 PM. The public is welcome to attend. The event will also be livestreamed on YouTube and can be viewed using the link below. The meeting agenda can be viewed on the GCCSD Board of Education page under the Links header. GCCSD Board Meeting YouTube Livestream Link:
https://youtu.be/lsYyqJuZ-Qc
Board Meeting Agendas:
https://www.gccsd.k12.ia.us/page/board-home

Seniors and Senior Parents: Don't miss out on this local opportunity to attend the Triton Tour tomorrow night between 4 p.m. and 7 p.m. Iowa Central representatives will be here to help you with filing your FAFSA, enrolling for classes, visiting with financial aid, learning about scholarships, and much more. This will be held in the Greene County Career Academy in Room D103. One lucky student will receive a $500 scholarship and there will be free food. Please contact Teresa Green at (515) 386-6190 if you have any questions.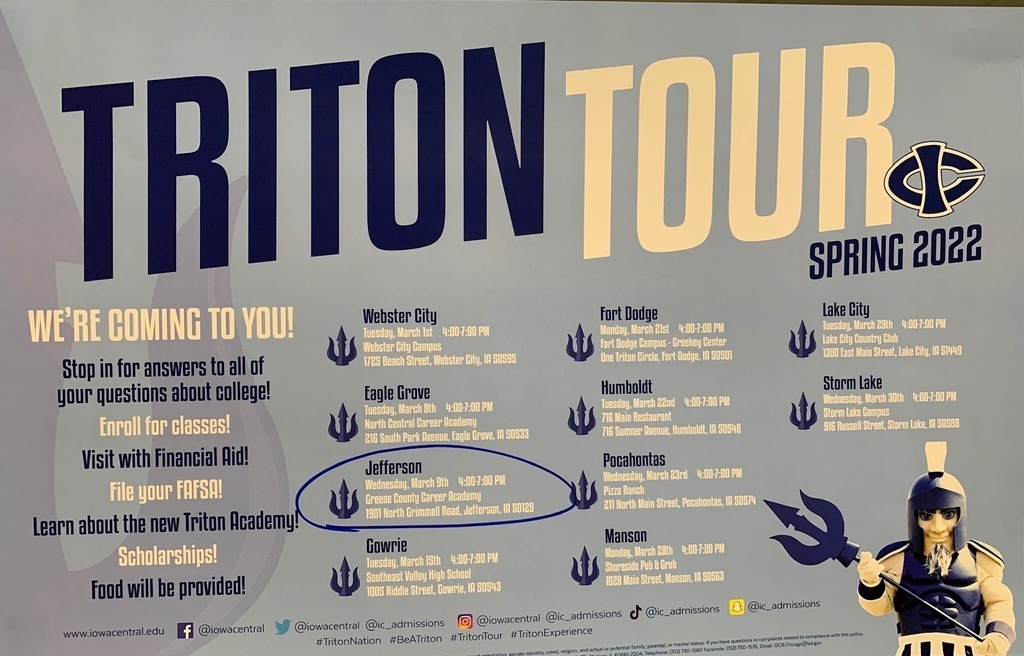 Reminder for Mrs. Henning's PK class: No class on Monday, Feb. 28th due to conferences.

Jump start your career with a great resume and cover letter! Register today!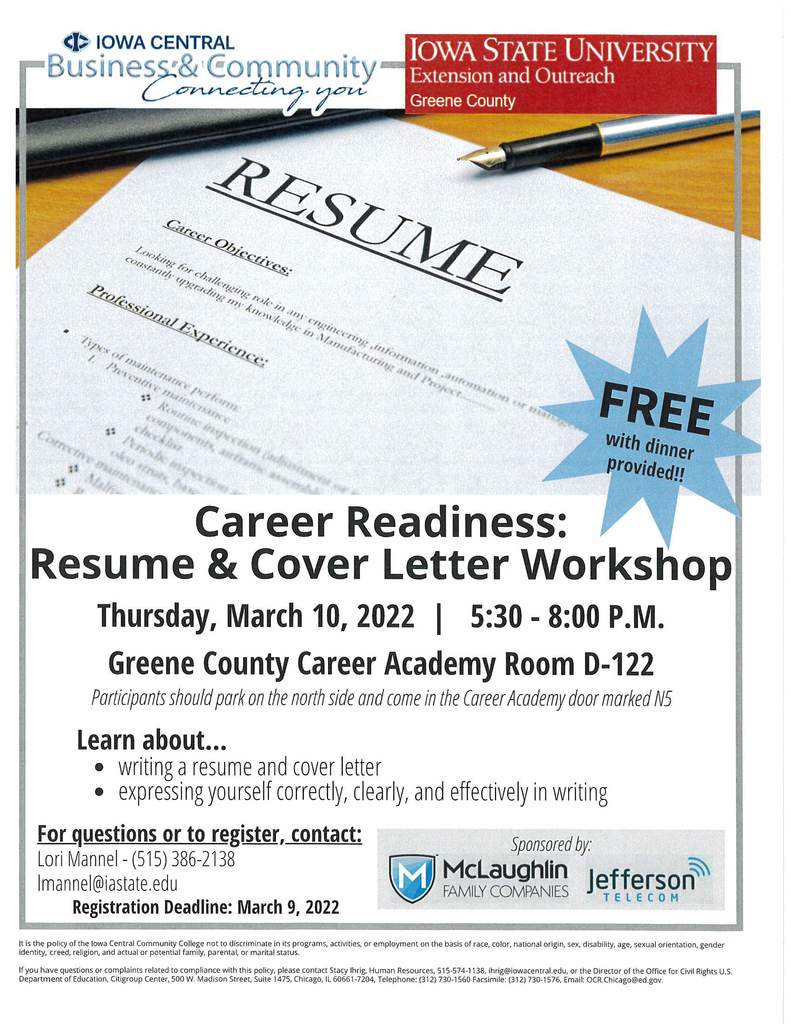 MS basketball (7th Grade @ Greene County and 8th Grade @ West Marshall) have been cancelled due to impending weather.


Emily Rohner led a group of adult education learners on how to create and improve their own Canva designs. Students were given guidance by Emily using the CleverTouch screen to demonstrate and by Beth VanderWilt who helped assist students individually. This class was held in one of the two Greene County Career Academy classrooms.


GCH will be hosting its 1st Annual All That Jazz vocal jazz festival on Friday, Feb 25th. This is an all day event with a number of schools participating. Jazz groups will work with guest clinicians then perform their jazz pieces. The festival finale is a Jazz Concert, headlined by our guest clinicians, Jennifer Parker from Minneapolis and Justin Binek from KC. Ram Jive, our own Greene County jazz choir, will open for these two giants in the vocal jazz field. We are so fortunate to have them in town! The public is strongly encouraged to attend this evening concert for a $5 admission fee.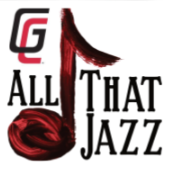 Adult Education: Homemade Pizza 101 Instructor: Tim Christensen March 1st