Reminder: Come on down to the high school this morning for Coffee and Conversation at 8:30am with Brett Abbotts. our new superintendent!

Now hiring for the position of Elementary Secretary. $12/hr. Medical, Dental, Vision, & Life Insurance. PTO. IPERS. Great work environment!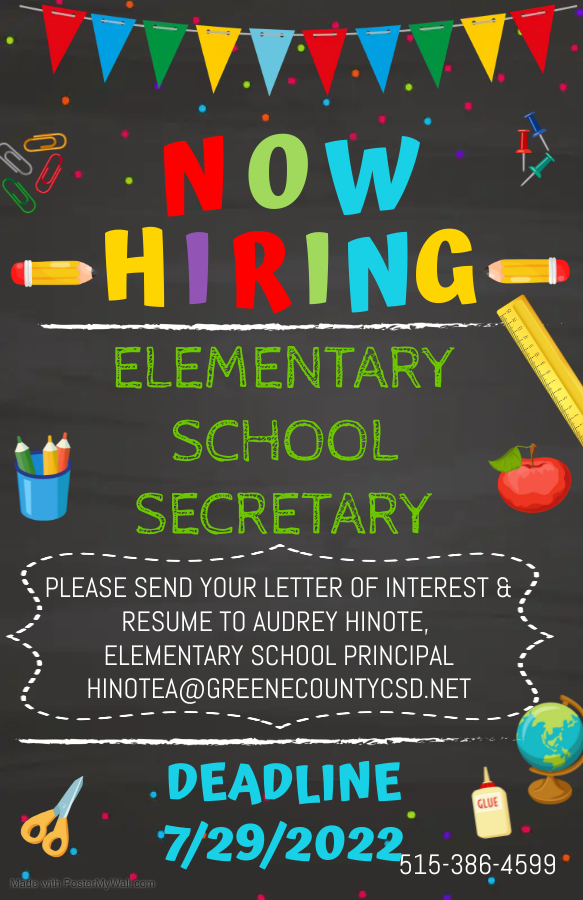 We had a great turnout for Coffee and Conversations this morning. Thanks to everyone who made it!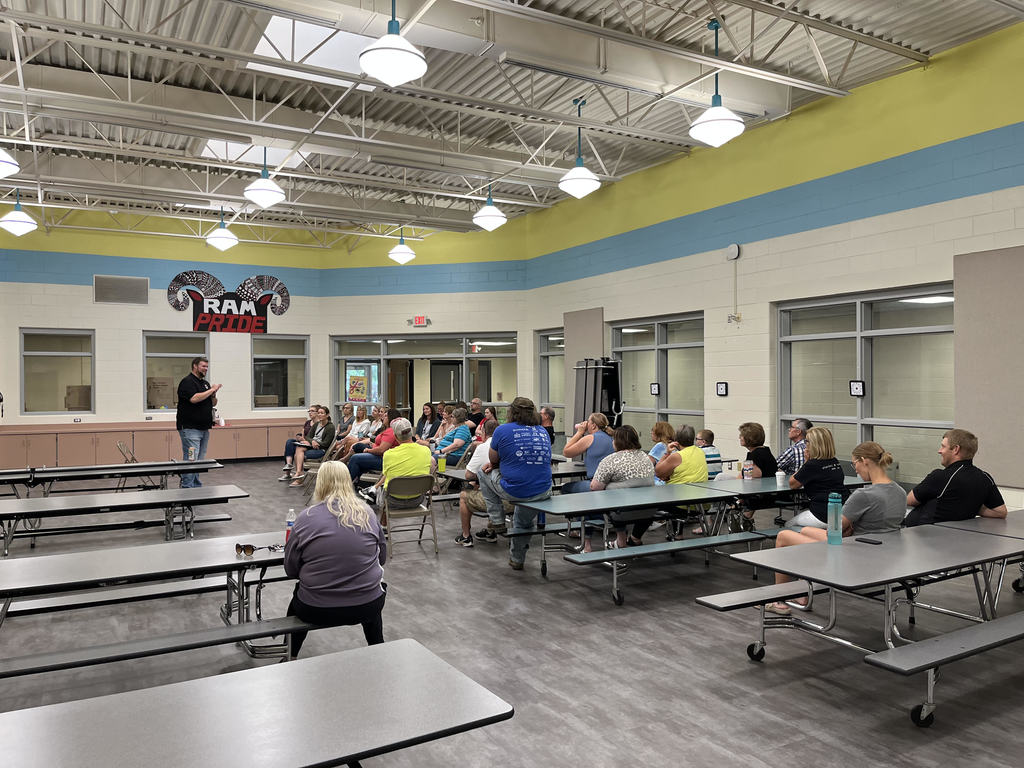 Don't miss coffee and conversations with superintendent Brett Abbotts at 8:30 tomorrow morning in the Greene County Elementary School cafeteria. We hope to see you there!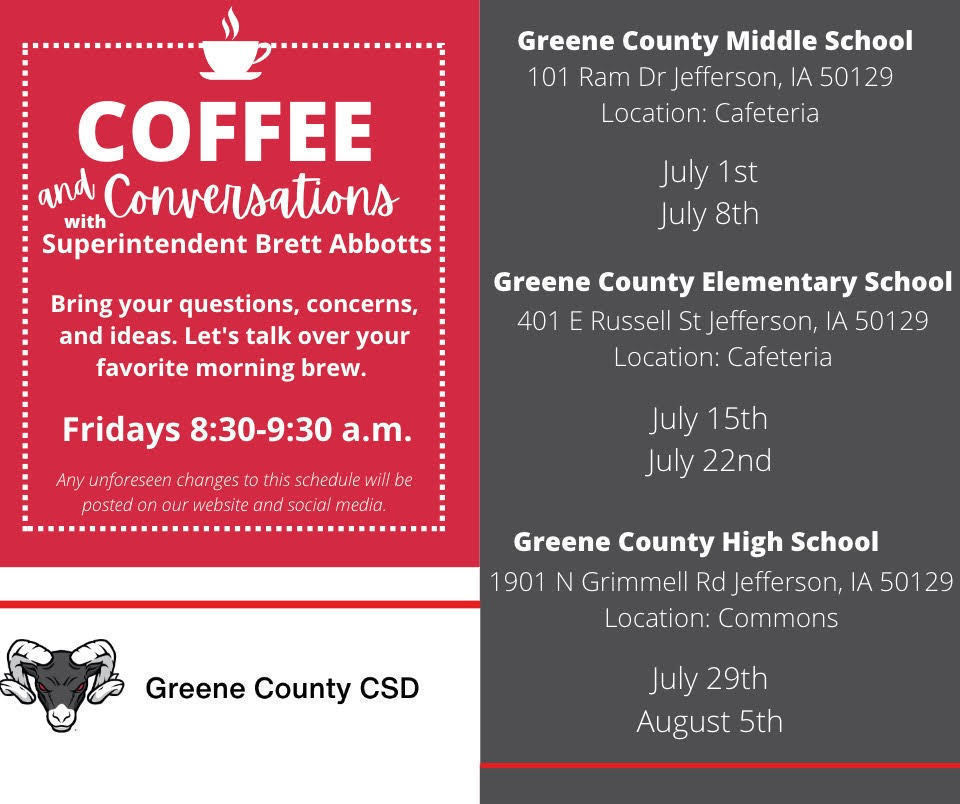 Schedules/Homerooms are now available to view on Infinite Campus. Please login to your account to view your child(ren)'s schedule, apply for meal benefits as needed and pay registration fees. It is important to note, families will be required to pay for school meals for the 22-23 school year. If you have not already been approved for free/reduced meals through direct certification and feel you may qualify, we encourage you to fill out the meals benefits application. Paper applications can also be found at all building offices. If you cannot remember your username/password and have not been successful with the "forgot username/password" function, contact
gannone@greenecountycsd.net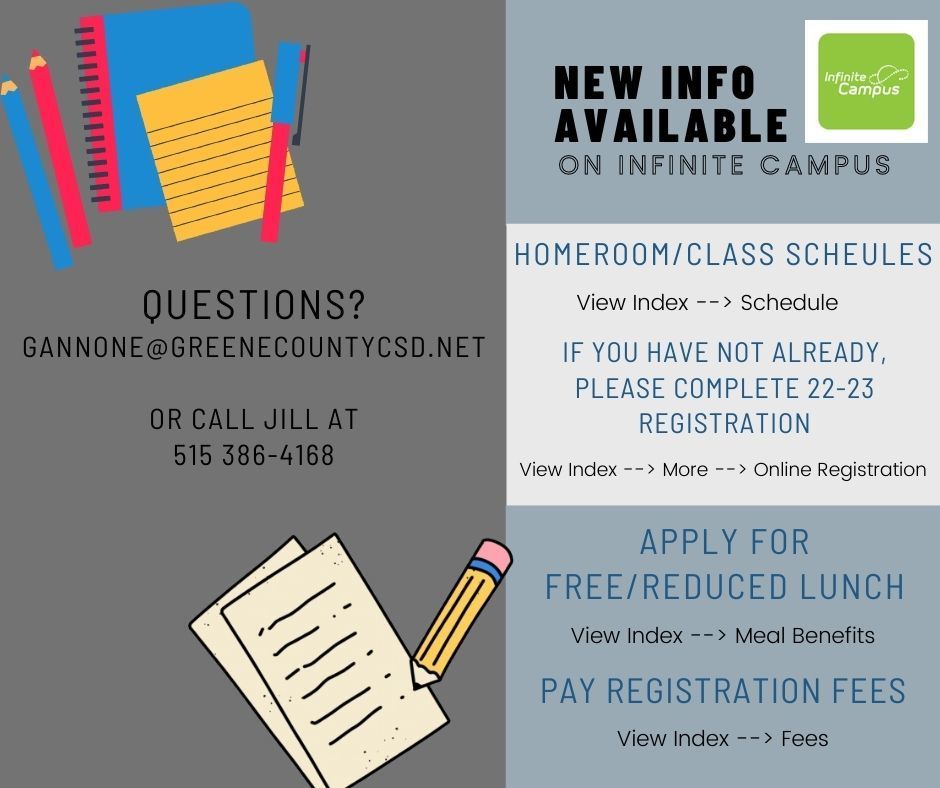 Greene County Community School will be holding the monthly board meeting at the admin building (101 Ram Drive, Jefferson, IA) this evening beginning at 5:15 PM. The public is welcome to attend. The event will also be livestreamed on YouTube (link below) and on channel 22/422 for Jefferson Telecom customers. The meeting agenda can be viewed on the GCCSD Board of Education page under the Links header. GCCSD Board Meeting YouTube Livestream Link:
https://youtu.be/OR9NE-JnwpQ
Board Meeting Agendas:
https://www.gccsd.k12.ia.us/page/board-home

We had a wonderful turnout at this morning's Coffee and Conversation. Thanks to all who attended! We're looking forward to the next one.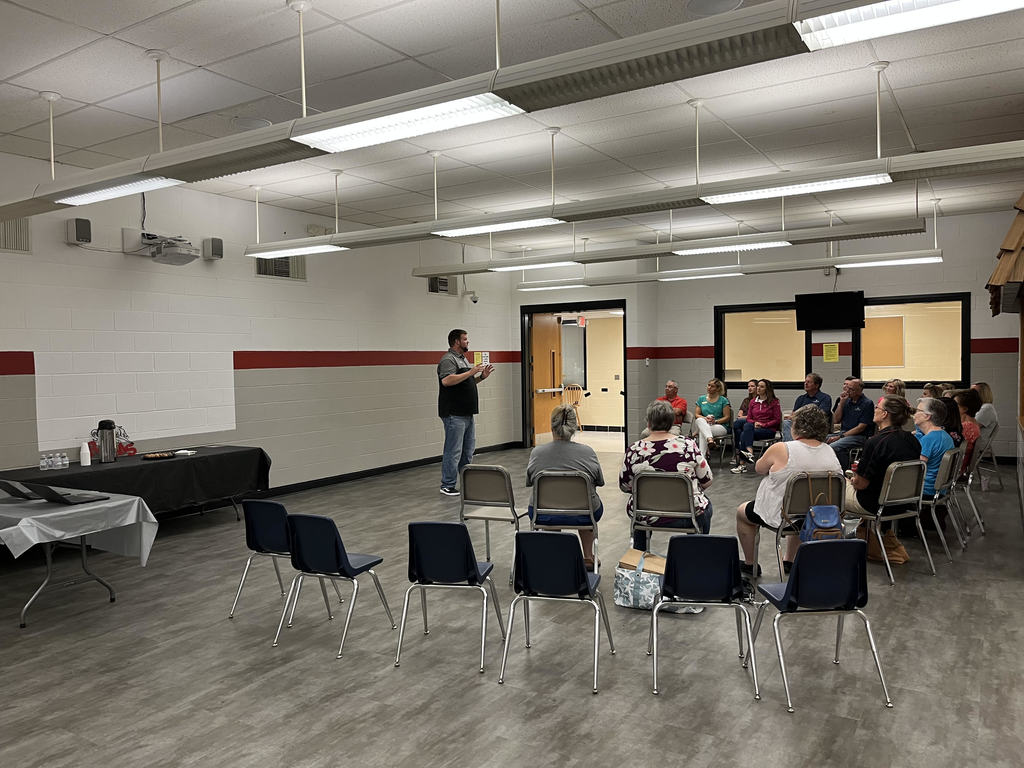 Don't forget! Coffee and conversation with superintendent Brett Abbotts at 8:30 tomorrow morning in the middle school cafeteria. We hope to see you there.


Greene County Schools will be hosting an online registration event for families that would like help navigating the online registration process. The event will be held on Tuesday, July 19th, from 3-7pm and will take place at Greene County Elementary in the lunch room. Spots are limited. We are requesting that interested people register for this event using the following link:
https://www.signupgenius.com/go/9040E4AAEAF2CABF49-school
If you have any questions, please call the Registrar at 515-386-4168.

Baseball TONIGHT @ Van Meter @ 6pm!

We are busy preparing for the 2022-2023 school year. Class assignments will be available for parents/students to view on the portal Mid-July. Applications for Free/Reduced lunch will also be available at that time. Stay tuned!

Coffee and Conversations will begin this Friday, July 1st at Greene County Middle School. This is a great opportunity to meet our new superintendent, Brett Abbotts. You are invited to bring any questions, concerns, or ideas. We look forward to seeing you there!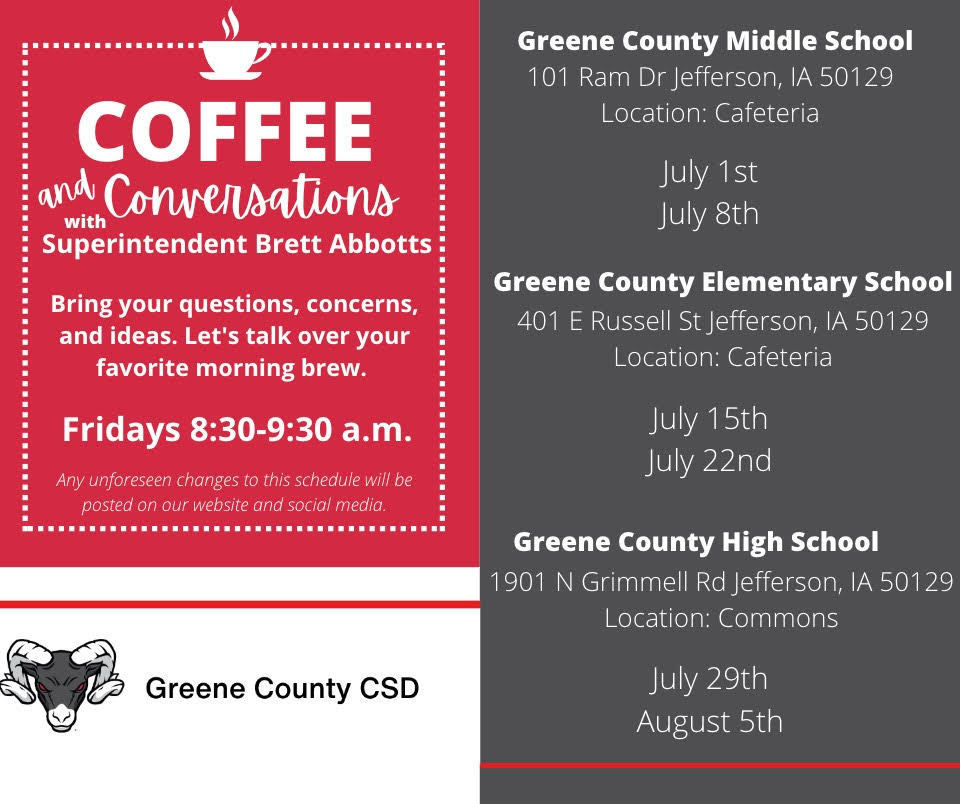 Baseball & Softball Updates: Baseball vs South Hamilton tonight (6/15/22) has been cancelled due to field conditions. We will look for a reschedule date at a later time. Softball will be played as scheduled.

MS Baseball vs Nevada at Greene County is canceled this morning (6/15/22) due to the excessive rain we have had last night and this morning.

Athletics Update 6/7/22: Middle school softball & baseball has been cancelled due to field conditions. HIGH SCHOOL BASEBALL vs Winterset will be varsity first, followed by JV.

Softball is on in Perry tonight (6/6/22) - 6:00 p.m. start with varsity only. Baseball is cancelled in Perry for tonight (6/6/22). The varsity game will be made up as part of a VDH in Jefferson on Monday, June 27 starting at 5:15.

MS Baseball and Softball vs Ogden 6/6/22 have been canceled.

Greene County CSD finished their esports year with a convincing win over Bettendorf in the consolation bracket in the playoffs. With the win, Greene County placed 7th place in the state. Greene County played a tough schedule losing to three of the top four teams in the state. Starters in the final match were Captain Aaron Knoll, Caleb Pederson, Caleb Most, Charlie Cooklin, and Mira Mills. Other students that played during the season included Layne Carstens, Mikey Smith, Kale Borgesen, Levi Helms, and Cody Bennett. The Rams were coached by Kyle Kinne. Congratulations to our Rams on a great season!