Picture retake day will be Friday, November 3rd!
Starting tomorrow at 11:00 AM you can use the following link to sign up for Fall Conferences. Conferences will be held on Tuesday, October 10 from 3:50-7:45. Due to time and availability please sign up for only 1 main teacher at this time.
https://www.myconferencetime.com/gcms/

Middle School and Elementary students have their regular dismissal times today.

Unfortunately, we will have to cancel the Homecoming parade due to rain. The coronation will take place at 2:00 in the high school auditorium. The public is welcome to attend. The event will also be livestreamed via the GCCSD YouTube Channel. See below for the link. High school students will still be dismissed at 1:30, but are encouraged to attend the coronation. GCHS High School Coronation:
https://youtube.com/live/-pnYVv7G2c4?feature=share

We are watching the weather for this afternoon. In the case of inclement weather, the parade will be canceled. The coronation will take place at 2:00 in the high school auditorium. Everyone is welcome to attend. A decision will be made and communicated by 12:00 today. Happy Homecoming!

2023 Homecoming buttons have arrived! They are available in the Elementary, Middle, and High School offices for $3.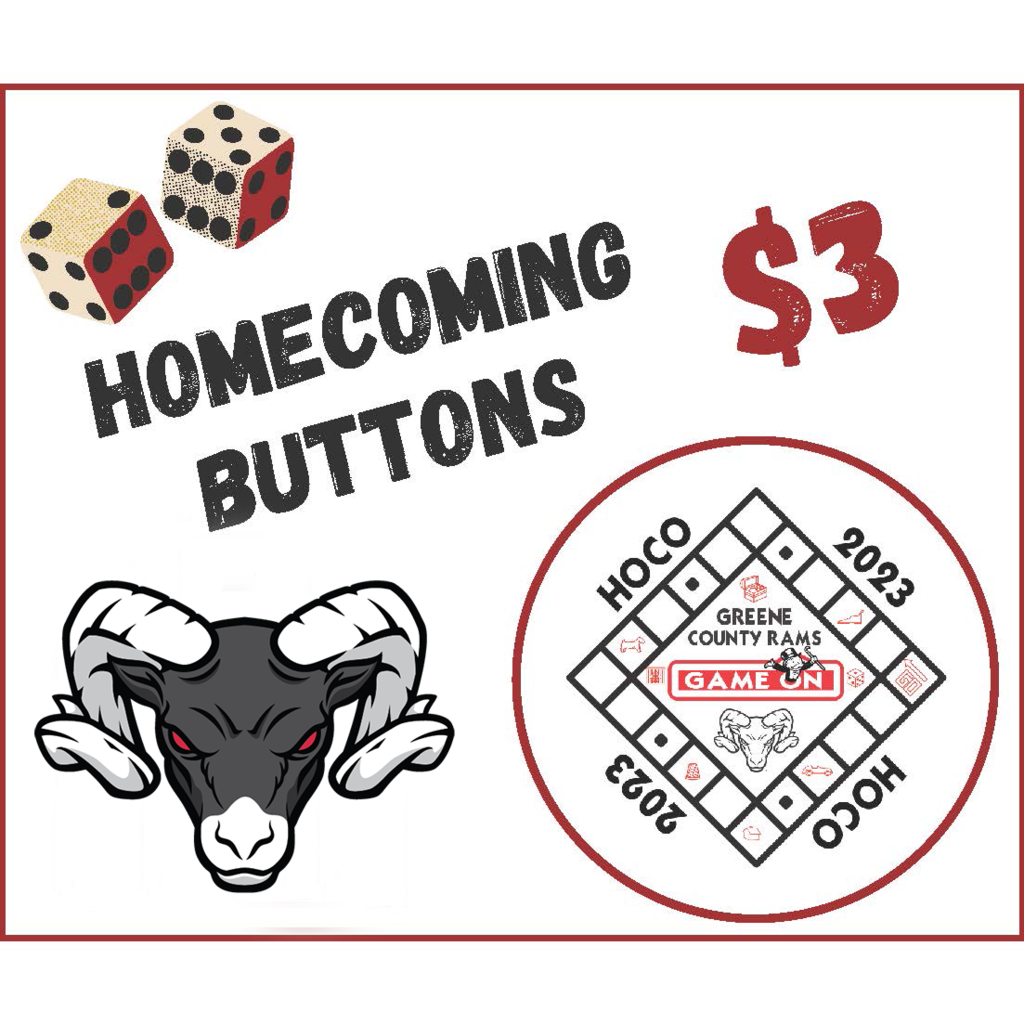 This is a reminder that Greene County and the Heart of Iowa Conference have gone to a cashless ticket system for all athletic events. We encourage people to purchase their tickets ahead of time at this link:
https://www.gobound.com/ia/schools/greenecounty/tickets
or use the attached QR code that will take you to the web site. Once there you can scroll and select the event for which you want to purchase tickets. Purchasing your tickets ahead of time will help speed up your admission to the game. You can also purchase tickets at the gate using a credit/debit card or Apple Pay. We are striving to make this process work as smoothly as possible. We thank everyone for their patience and understanding as we make this transition.
HOCO Parade Reminder! If you plan to dismiss your student for the parade please communicate that with the front office. The earlier you can communicate this, the smoother dismissal will go for everyone. Students will need to be dismissed before 1:30 p.m. No student will be dismissed during or after the parade. Standard end-of-day dismissal procedures will continue as usual, following the regular after-school routine. Thanks! Cara Osborne-GCMS Principal #goRams
On November 7th, 2023, Greene County CSD will be asking residents and community members to extend the Voter Approved Physical Plant and Equipment Levy (Voter Approved PPEL) for an additional 10 years. These funds have been extremely vital to the success of our students and school district and we would appreciate your support at the polls on November 7th, 2023. We will continue to send out additional information each week leading up to the election regarding this highly important vote for our schools. As a reminder, this is not a new tax and this is not a general obligation bond. This is a vote to extend the property tax funding to support our schools for another 10 years. Please review the attached graphics for some additional information and reach out to Superintendent Brett Abbotts by phone at 515-386-4168 or by email at
abbottsb@greenecountycsd.net
with any questions or comments.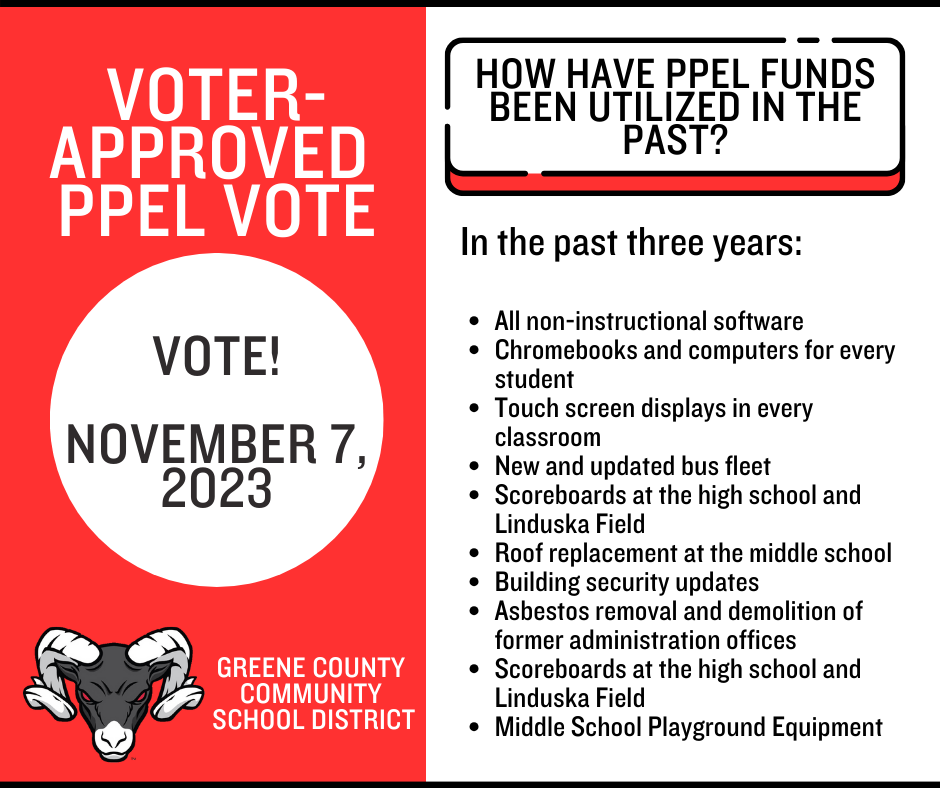 Hello Greene County Community! Homecoming shirts and buttons are back! T-shirts can be purchased at the link below and buttons will be available in the school offices. Orders close at midnight 9/17.
https://gc-homecoming-23.spiritsale.com/
Happy Friday Ram Families! A few things to remember as we roll into next week: Football Game- Please remember there are to be no balls brought to the football game. Students are expected to be watching the game. Middle school students are to sit in the south end zone in the bleachers or with their parents. Morning and Afternoon Dropoff/Pickup- Please know that you are not allowed to drop off or pick up students in front of the school on Ram Dr. This is the bus loading and unloading zone. For the safety of our students drop off and pick up are on the East side of the building through the parking lot. Monday Early Release- Please make sure your students know what their transportation is for the early release time. This is the last Monday that the high school students will not dismiss early as well. Students in athletics please remember you are not allowed back in the building prior to 3:45 or upon the arrival of your coach. MAP testing will begin on Tuesday and Wednesday. Please make sure your student arrives on time, with a good night's sleep and a positive attitude.

THANK YOU!!

In an effort to test a new student check-in/check-out solution at Greene County High School, a mass notification was sent to all parents via text message by mistake. Please accept our apologies for this interruption and disregard the notification. Have a great day.

Reminder: Today is an early out for elem (1:20) and MS (1:25). HS will dismiss at regular time (3:40). Keep this in mind if your child rides a bus; Elem and MS students will arrive after school at their bus stop 2 hours earlier than a non early release day.

Good afternoon GCMS parents!  It has been a great first few days at the middle school and we are excited for what is to come.  A few reminders I wanted to share with you all as we approach our first full week of school.  Monday begins our early release schedule. The middle school will dismiss at 1:25. Please make your dismissal arrangements accordingly.  If you have not joined your students grade level Remind please make sure to do that as they will be communicating throughout the year via that app.  The last day to add or drop band/choir is Tuesday, August 29th. If you have not submitted your add/drop forms please get them ASAP. After Tuesday no add/drops will be allowed until 2nd quarter.  Lastly, any transportation changes that are called in need to be communicated before 2:45. After 2:45 we cannot  guarantee that they will be communicated to your student. Dismissal gets very hectic in our office and for the safety of our students this is what needs to happen. Just a reminder at the middle school we are helping guide our students to be more independent, with that being said if your student is aware of their after school plans there is no need to communicate that change with the office. The only time you need to communicate changes with the Middle School office is if  your student is unaware of the change, getting dismissed early, or they are riding a bus home with a friend that is not their normal bus.  Below you will find the link to our  daily announcements that contain general information such as lunch/breakfast, A/B day and communication about activities (Sports & Webb House) .  GCMS Daily Announcements. Have a great weekend!  Cara Osborne GCMS Principal #GoRams


Good evening parents! As we gear up for Open House on Monday! Please make sure when you come in that you sign the acknowledgement form that you have access to the student/parent handbook. We will have QR codes with links to digital copies of the new 23/24 handbook. Also, please make sure if your student is interested in band and/or choir you swing by and fill out the add course paperwork! We look forward to seeing many of you on Monday! Have a great weekend! Cara Osborne GCMS Principal

Greene County Community School will be holding the monthly board meeting at the admin building (101 Ram Drive, Jefferson, IA) this evening beginning at 5:15 PM. The public is welcome to attend. The event will also be livestreamed on YouTube (link below). The meeting agenda can be viewed on the GCCSD Board of Education page under the Links header. GCCSD Board Meeting YouTube Livestream Link:
https://youtube.com/live/Upumx3kGp94?feature=share
Board Meeting Agenda:
https://www.gccsd.k12.ia.us/page/board-home